Does JH Faske Jewelers offer a warranty?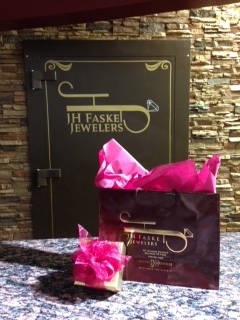 We like to call it our "Complete Satisfaction Guarantee." We guarantee you're complete satisfaction on your diamond jewelry from JH Faske Jewelers. Afterall, your complete satisfaction is our #1 priority. Should you ever have a problem with your purchase, please visit us immediately. We promise to repair or replace, at no charge to you, any manufacturers defect for the lifetime of your jewelry purchase. It's that simple. The only thing you need to do is enjoy your jewelry.

What if I get my piece of jewelry home and I decide that it's not exactly what I want?
That's easy. We have a "Gotta Love It" guarantee. If for any reason you are unhappy with your purchase, return it to us within 30 days and we will exchange it for an item of your total purchase price providing the merchandise is in "new" condition. If you don't find exactly what you are looking for, we will give you store credit and find what you are looking for.

Do you offer financing?
We offer financing which can be applied for through our touch screen kiosk inside JH Faske Jewelers. The application process is simple and you receive a credit decision within minutes.

Can I trade-in my diamond jewelry?
Absolutely! To enhance your original investment, JH Faske Jewelers will allow you to trade in your center diamond, stud earrings or solitaire pendant towards any other diamond jewelry valued at least twice your original purchase price. We want to enhance the enjoyment of your purchase as well as assure you of future cost-effective upgrades.

Do you buy jewelry or scrap gold?
Yes, we are willing to take a look at any jewelry you may have. We are happy to sort and weigh any scrap gold that you are interested in selling and offer you a fair price based on the current gold market.

How often should I have my jewelry cleaned and inspected?
We are happy to clean and inspect any jewelry purchased at JH Faske Jewelers, at any time, as often as you like, free of charge. We recommend stopping in to visit us every couple of months to have us take a look and make sure your jewelry is looking its best. To insure you retain your stone loss warranty, items must be checked every six months or less.

Can you repair my jewelry or custom create a piece just for me?
We can do it all! We have two in-house goldsmiths that can assist you with all of your repair needs. Trust us, they are amazing at what they do! Bring in your jewelry and/or your ideas and we will be happy to sit down with you and give you an estimate.