Meet Our Staff
Meet Our Staff
Jay H. Faske, Owner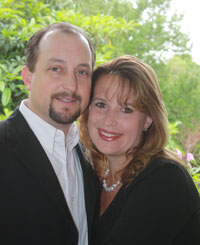 Jay is a third generation jeweler who was born and raised in Brenham, Texas. At the age of 13, Jay was introduced to the jewelry industry when he spent a summer working in his father's store. After graduating from Brenham High School, he attended Blinn College and then transferred to the Texas Institute of Jewelry Technology in Paris, Texas. From there, he came back to Brenham to start custom designing jewelry. He met and married his wife of 25 years, Suzanne M. Faske. Together, Jay and Suzanne have three biological children and have adopted several children. Some of their children have entered the jewelry industry becoming the fourth generation. Jay and his family attend Brenham's First Baptist Church.
In 1990, he and his father, Herbert J. Faske, opened the jewelry store at 114 E. Alamo to provide jewelry repair, open a showroom, and create custom designed one-of-a-kind masterpieces. In 2003, Jay purchased his father's interest in the business, where he continues to create custom one-of-a-kind jewelry along with a show room of fine jewelry, watches, and gift items.
Melissa Diehl, Graduate Gemologist / Manager
Melissa started working at the store as a sales representative in 2000, when she was still in High School. In December of 2005, Melissa married her husband, Jeramy. They are the proud parents of two children, Addison and Phillip. After attending many jewelry shows and seminars, Melissa chose to continue her education in the jewelry industry and received her Graduate Gemologist Degree from the Gemological Institute of America in 2012. As the manager of JH Faske Jewelers, she oversees the daily activities within the business. When Melissa is not working at the store, she enjoys spending time with family, shopping and going out to dinner with friends. Melissa and family attend Emmanuel Lutheran Church in Greenvine, Texas.
"Not only do I get to look at beautiful jewelry all day, but I get to help clients with important purchases like choosing that perfect engagement ring for the one they love." -- Melissa
Sarah Faske A.J.P., D.G. / Assistant Manager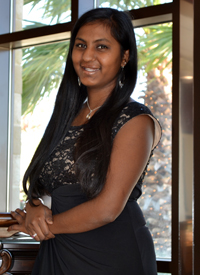 Sarah is the daughter Jay and Suzanne Faske. She joined the Faske family when they adopted her from Delhi, India when Sarah was 2 years old. She began working at JH Faske Jewelers part time as a sales associate when she was only 13 years old. Sarah has received her Associates in Business Degree in December 2014. She is a member of the National Honor Society, Phi Theta Kappa. Sarah is also attending the Gemological Institute of America (GIA), and has recieved her Accredited Jewelry Professional Certificate, Diamond Gaduate Certificate and Colored Stone Certificate. Sarah has plans to get her Graduate Gemologist Degree from GIA. When Sarah is not working at the store, she enjoys reading, hanging out with family and friends and volunteering around the community.
"I enjoy hearing the different ways people propose to the one they love. I love seeing the excitement in the customer's eyes when they find that perfect engagement ring." -- Sarah
Joshua Faske, Goldsmith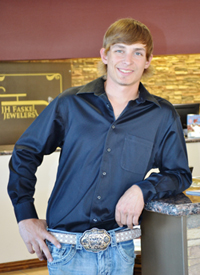 Joshua was raised in the jewelry industry his entire life. He started working on the bench learning basic goldsmith techniques when he was 15 years old. About a year later, he created his first sterling silver line, which was a collection of one-of-a-kind pieces. Like his father, Joshua enjoys creating jewelry that is unique, yet wearable. When Joshua is not working at the store, he enjoys roping, hunting, fishing, and working with horses. Joshua takes his love for horses and the outdoors and incorporates it into beautiful artistry with a western flair.
"As a jewelry artisan, I enjoy designing and creating jewelry that is as unique as the customer themselves." -- Joshua