Our Services
Our Services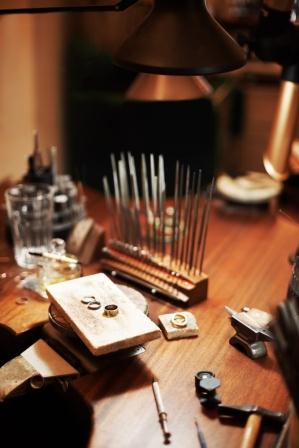 When leaving a piece of jewelry for repair, the item is inspected before any repairs are done. Once the piece is inspected, you will receive a printed receipt with a picture of the item and written estimate of the repair for your records. All repairs are done with the same high standards as our custom pieces. Many repairs are accomplished using a laser welder giving a stronger, more precise repair. We offer many different services from cleaning to complete jewelry restoration.
Jewelry Repairs Done On Site
Jewelry Cleaning & Inspection
When cleaning your jewelry, we use a buffing machine on yellow gold pieces to burnish light scratches and bringing the gold to a high luster. The piece is then put into our ultrasonic cleaner to remove any dirt or particles on the jewelry. The next step is the steam cleaner which dries the jewelry, leaving it spotless. Lastly all the stones are checked to insure everything is secure. A proper cleaning usually requires one hour to completely clean and check all stones. If you don't have an hour, we do offer a quick dip and steam at no charge.
Ring Sizing
Whether it 's a recently purchased ring or something that has been in the drawer for some time, our bench jewelers can resize your silver, gold or platinum ring! Ask one of our sales associates about our laser welding or torch methods.
Bracelet & Chain Repairs
When wearing bracelets and chains, they can get twisted, tangled, or broken when wearing or when put away at night. Our bench jewelers can repair broken links, replace clasps, and adjust length when needed.
Charm Soldering
Attaching sterling silver or gold charms onto bracelets is done using our laser welder. Any charms purchased from JH Faske Jewelers are welded on at no charge.
Pearl or Bead Restringing
If a pearl or bead piece of jewelry breaks or needs adjustment on the length, we can help! We do both knotting of pearls and standard bead stringing.
Refinishing & Rhodium Plating
If a textured finish has worn away on your jewelry, do not worry because we can reapply the original textured finish. All white gold jewelry is final finished with a rhodium plating to make the item extremely white. We polish and rhodium plate items to bring them back to their original beauty.
Insurance Appraisal
If you need an insurance appraisal, JH Faske Jewelers can assist you with that. We have two Graduate Gemologists on staff who are qualified to appraise your jewelry. When writing an appraisal, we take pictures of the jewelry, clean, assess, weigh and write full descriptions of the jewelry along with the appraised value. We can also do a verbal value. That is when the information is not presented as a document, but we verbally give you a value.
Prong Repair & Retipping
Just like the tires on your car, the prongs that secure stones in place will eventually wear thin. The prongs can be built back up to their original thickness. This will avoid any loss of stones.
Watch Repair
• Rolex Repair
• Clean, Oil and Adjust Movement
• Band Adjustment While You Wait
• Batteries Dated and Installed While You Wait
• Crystals, Crowns & Stems

Free Services Provided for Purchases from JH Faske Jewelers
• Jewelry Cleaning and Inspection as Often as You Like
• Once a Year Rhodium Plating on White Gold Jewelry
• Free lifetime batteries on all watches purchased from JH Faske Jewelers
• Gift Wrapping on all Purchases
• Insurance Appraisal with Photograph when Requested
• Complimentary Engraving on Purchases when Possible